Abstract
The main objective of this project is to monitor the Wireless Anti Theft Alarm system for Two Wheeler vehicle. The proposed project is user-friendly and works very efficiently.
Description
The wireless anti-theft alarm system's range is only 100 feet. This system uses less voltage and its size is very compact. It has low battery alarm. If there is no signal, then wire cut alarm will alert the user.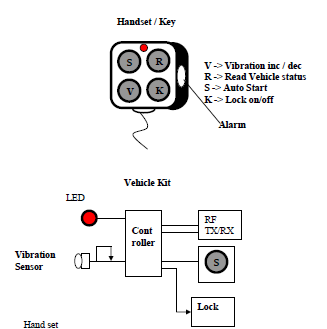 1) Auto 5 min once Security Reader
2) K for Key on / off
3) V is Vibration Adjustment (inc / dec) for each key press.
4) S for Auto start
5) R for Read vehicle
🔥497 Views